ReHub offers a new healthcare model
Allowing insurance companies to offer a new and innovative care model that allows them to increase their customers' experience, avoiding unnecessary transport and reducing their recovery time.

It allows your clients to be attended in a faster and more flexible way through a 100% personalized online physiotherapy therapeutic treatment.
ONLINE PHYSIOTHERAPY
Everything you need in a Telerehabilitation solution.

INDIVIDUAL LICENSES PER PROFESSIONAL AND CENTER

WEB AND PATIENT APP (ANDROID, IOS) for MOBILE AND TABLET

Medical STAFF SPECIALICEZ IN DIGITAL REHABILITATION

INTEGRATION WITH THE INSURANCE COMPANYS APP AND THRID PARTY SYSTEMS

CONTROL DASHBOARD THAT MEASURE AND CONTROL THE SERVICE

MULTILINGUAL PLATFORM (SPANISH, ITALIAN AND ENGLISH)
Do you have questions or need more information?
Schedule a meeting with our experts to solve any doubt about our services for insurers.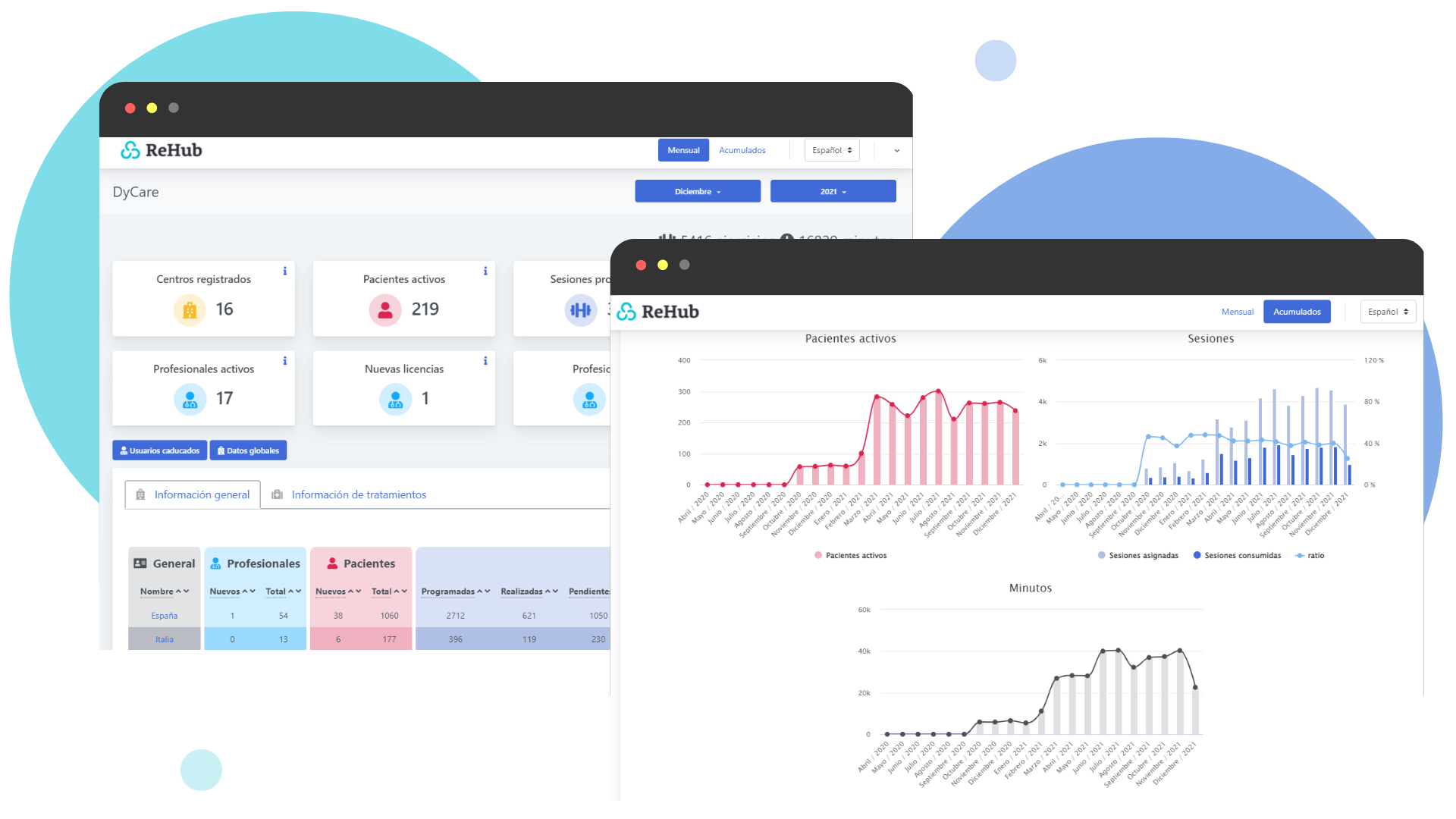 Optimize your resources and improve the user experience
Real-time access to measurable results and metrics through a dashboard to identify ways to reduce costs, increase service quality and improve the user experience.

Reduction of face-to-face physiotherapy sessions (60%)

Reduction of waiting lists (40%)

Reduction in accident costs (+45%)
What can our computer vision technology do?
Using the patient's smartphone camera, ReHub's artificial intelligence algorithms can analyze up to 74 points on the body guiding the patient in the execution of the therapeutic exercise.
Monitor body movement
Ensure the correct execution of the exercise
Measure range, speed and repetition of motion
FREE REHUB APPLICATION FOR ALL YOUR PATIENTS
Involve your users in their recovery process
Your clients will be able to use the ReHub digital app from mobile, tablet or laptop. Our app has been tested on patients up to 80 years of age and has a 4.5/5 satisfaction rating.

Reduced recovery time

24/7 accessibility via cell phone, tablet or laptop

Real-time correction of exercise performance

Empowerment and increased adherence to treatment

Professional supervision via chat and video call

Cost savings in transportation and travel
CASE STUDY
DKV integrates ReHub to offer physiotherapy online
ReHub is being progressively rolled out to the entire network of more than 1,000 collaborating centers and has been integrated into its digital app Quiero Cuidarme Más providing digital rehabilitation services to its more than 2 million policyholders.
+500,000 therapeutic exercises performed
79% completed their therapy
+3,000 patients use ReHub
"The alliance with DyCare started because of the feedback it brings to the patient as you can see the evolution of the patient as they perform the exercises."
Julio Lorca, Development Director of DKV Digital Health