A complete Digital Therapeutic Platform to improve clinical outcomes
Designed for and by healthcare professionals, ReHub delivers home-based rehabilitation exercises for people with musculoskeletal problems. Our telerehabilitation platform increases patients´ adherence and improves therapeutic outcomes through the personalization of treatment.
ReHub artificial intelligence algorithms analyze and process millions of data to facilitate patient follow-up, by advising a change of therapy or when patients are not engaged, have a lot of pain, or are not using the application.
Everything you need
to deliver secure, effective, and personalized digital therapy
Digitize the rehabilitation process to increase productivity and improve the quality of services.
PRESCRIBE MSK PROGRAMS IN LESS THAN 1 MINUTE
PERSONALIZE THERAPEUTIC EXERCISES WITH AND WITHOUT SENSOR
CLINICALLY VALIDATED QUESTIONNAIRES
SECURE COMMUNICATION THROUGH CHATS AND VIDEO CALLS
MONITOR PATIENT'S PROGRESS WITH AND WITHOUT SENSOR
EVOLUTION OF PAIN AND LEVEL OF ADHERENCE
Precision tracking for
personalized therapeutic care
ReHub has the most advanced inertial sensors for human motion analysis that delivers digital therapy. ReHub Tracking sensor evaluates and monitors the functional capacity of the patient recording its movements and its force simultaneously.
What advantages does our inertial sensor have?
A single sensor records movement and force patterns simultaneously
Our system analyzes up to 45 parameters in a single movement
Based on Bluetooth and easy to place anywhere on the body
Evaluate the range of motion, speed, and strength when performing the exercises.
Clinically validated by prestigious hospitals and rehabilitation centers
CLINICAL DASHBOARD
Real-time data to better run
your Physical Rehabilitation Service
✔Leverage clinical data analysis using intuitive dashboards
✔Optimize resources allocation and improve quality of service
✔Monitor the effectiveness of new treatments and keep track of patients' progress
✔Compare the effectiveness of treatments according to pathology, professional, or center
✔Identify ways of reducing costs and improving patients' experience
Go beyond physical therapy
ReHub offers the most complete evidence-based digital therapeutic platform that helps healthcare professionals to personalize their services and reduce patients' recovery time.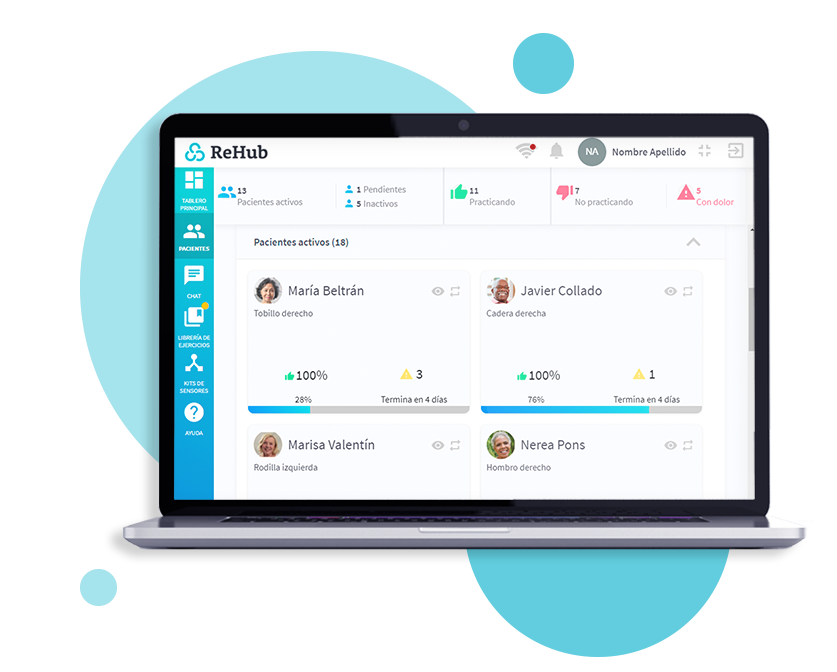 ✔Control of the entire patient recovery process
✔Easy follow up and remote patient's monitoring
✔Personalize therapeutic exercises
✔Digital and secure communication channels with the patient
✔Home-based rehabilitation sessions to increase operational capacity
We close the gap between technology, healthcare professionals, and patients
ReHub technology provides feedback to patients and ensures they complete the therapy to accelerate their recovery.
✔ Convenience and flexibility to perform exercises from anywhere and at any time
✔ Accessibility 24/7 through mobile, tablet, or laptop
✔ Virtual coach (Diana guides the patient and provides feedback during daily exercise therapy)
✔ Cost savings (save time and money)
✔ Reduced recovery time by increasing patient's adherence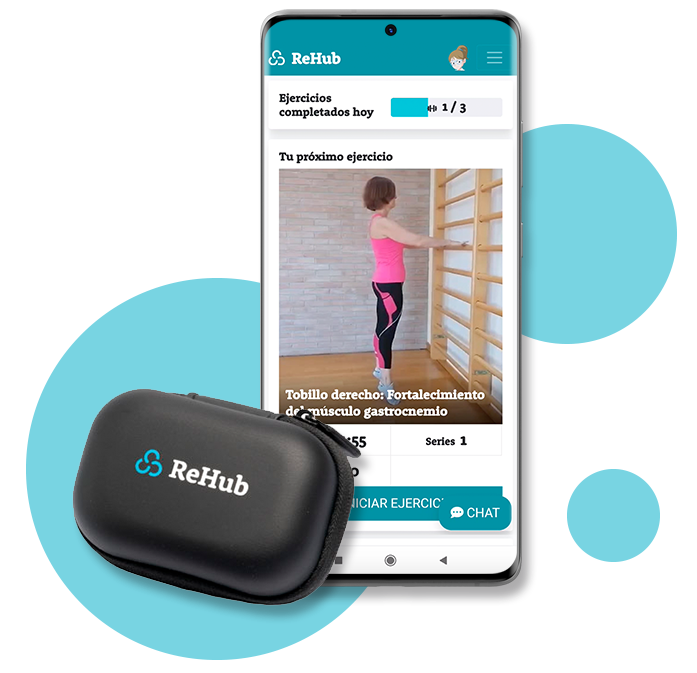 SUCCESS STORIES
Read our case studies
BLOG POSTS
Read our latest blog posts
Do you have questions or need more information
?
Schedule a meeting with our experts to learn more about the benefits that ReHub can bring to your daily practice.