What is Computer Vision Technology?
Using the patient's smartphone camera, ReHub's artificial intelligence algorithms can analyze up to 74 points on the body guiding the patient in the execution of the therapeutic exercise.
What can our computer vision technology do?
Monitor body movement
Ensure correct execution of the exercise
Measure range, speed and repetition of motion
Everything you need to deliver secure, effective, and personalized digital therapy
Digitize the rehabilitation process to increase productivity and improve the quality of services.
PRESCRIBE MSK PROGRAMS IN LESS THAN 1 MINUTE
PERSONALIZE THERAPEUTIC EXERCISES WITH AND WITHOUT SENSOR
CLINICALLY VALIDATED QUESTIONNAIRES
SECURE COMMUNICATION THROUGH CHATS AND VIDEO CALLS
MONITOR PATIENT'S PROGRESS WITH AND WITHOUT SENSOR
EVOLUTION OF PAIN AND LEVEL OF ADHERENCE
Precision tracking for
personalized therapeutic care
ReHub has the most advanced inertial sensors for human motion analysis that delivers digital therapy. ReHub Tracking sensor evaluates and monitors the functional capacity of the patient recording its movements and its force simultaneously.
Evaluates
range of motion

,

speed

and

strength

when performing exercises.
Our system analyzes
up to 45 parameters in a single movement.
It
works with Bluetooth

and is very easy to place on any part of the body.
ReHub's technology has been validated by several clinical studies demonstrating its safety and effectiveness.
PHYSIOTHERAPISTS
A new way of rehabilitation
Digitizes the rehabilitation process, increases productivity and improves therapeutic outcomes with our digital therapeutic platform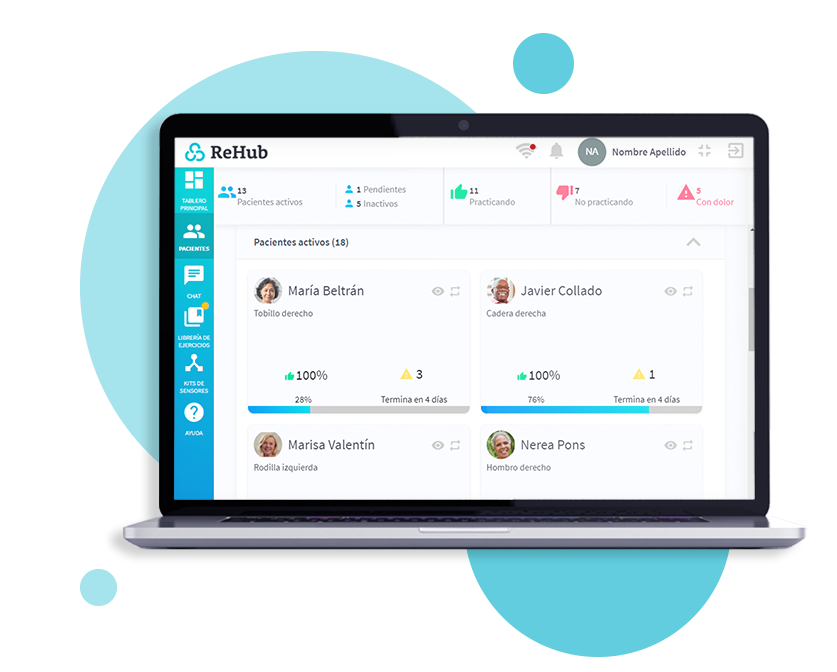 ✔ Control of the entire patient recovery process
✔ Easy follow up and remote patient's monitoring
✔ Personalize therapeutic exercises
✔ Digital and secure communication channels with the patient
✔ Home-based rehabilitation sessions to increase operational capacity
Would you like to see ReHub in action?
Schedule a personalized demo now and our product specialists will contact you to guide you through our telerehabilitation platform.
SUCCESS STORIES
Read our case studies